How to replace the front stereo speakers in the Lincoln Town Car (1990-1997)

---
What size are the front speakers?
The front stereo speakers are 5" x 7" speakers, the distance between screws are 10.5cm X 12.4cm. Mostly, only Ford uses this size of speaker.
The one on the photo is JL 2 way speaker, I bought a set for $105 from a stereo shop, but I saw it on the eBay with "Buy-It-Now" price of $70 and $15 shipping (total $85).
The space on the door panel is actually smaller than the speaker's face. I guess this make it does not sound so good. If you really want a good sound in the front, it's best to get "component speakers", which includes a mid-range, a tweeter and a crossover. However, they don't make an oval shape so it is hard to fit. These type of speakers usually cost at least $250 for a good set.
---
How to replace them
Take off the door panel

As the picture indicates, there are four screws you have to take out

Remove the door panel carefully, there are several plastic connectors and clips, they are easly broken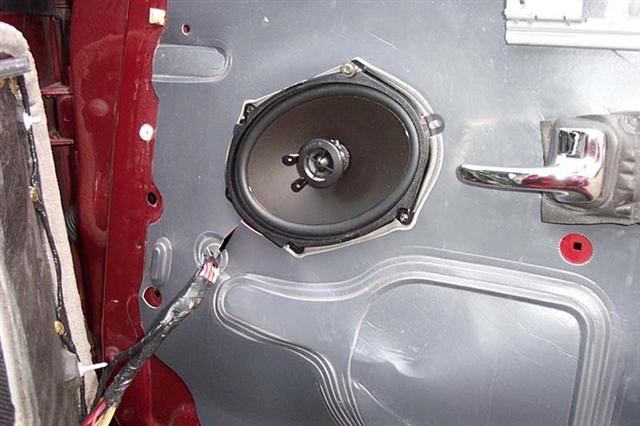 Leave the door handle just like the picture shows, don't worry about the handle

Take out the four screws on the speaker, put new speakers.