Tasca Ford Super Mark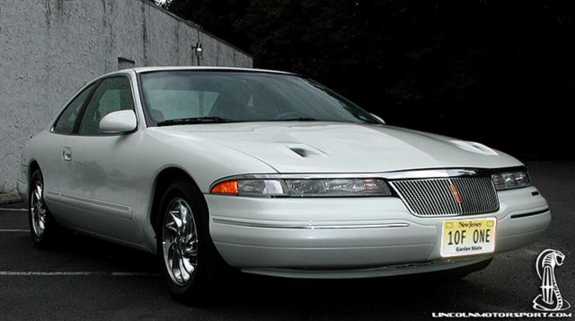 In early 1993 Watson Engineering, Ford Motor Company's prototype developers at that time manufactured this unique project as a running driveline Mule for the 1993 Mustang Mach III Prototype and was headed for the crusher after it served it purpose (As do most prototype vehicles) until Bob Tasca of the Legendary Tasca Ford had a sharp eye when he was visiting Watson Engineering for an unrelated project and spotted this one of a kind supercharged Lincoln Mark VIII.

After a few calls and some strings being pulled way up at the top brass in Ford's headquarters Bob Tasca saved this beauty from a certain death and took her from Watson Engineering headquarters in late 1993 to their Location in Seakonk MA. where she lived in a museum quality storage facility until we acquired this amazing car just a few years ago. This vehicle is one of 5 prototypes per decade that actually makes it to registered driveability in the general public.

This vehicle utilizes some of the most amazing technology of it's time. One of the most odd is a shared management computer system consisting of OBD I as well as OBD II interface ECM's while retaining the factory ECM under the dash for all other typical Mark VIII functions. Remember at that time in late 1992 early 1993 when this car was crafted OBD II was still 4 years away from production in the Lincoln Mark VIII platform.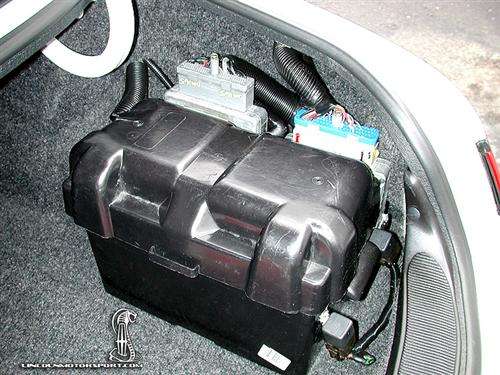 One entire ECM in the trunk of the car runs the coil on plug ignition exclusively while another ECM also in the trunk runs the second set of 24lb injectors and the second cam sensor. Both ECM's in the trunk reside in magnetic shielded case right next to the trunk re-located battery.

The engine features two 65mm Ford Thunderbird Supercoupe throttle bodies mounted opposing each other and two 80mm Mass Air units that pull air directly from the outside via the twin ram air scoops in the hood with modified 1992 Ford Aerostar minivan air boxes which house K&N Panel filters.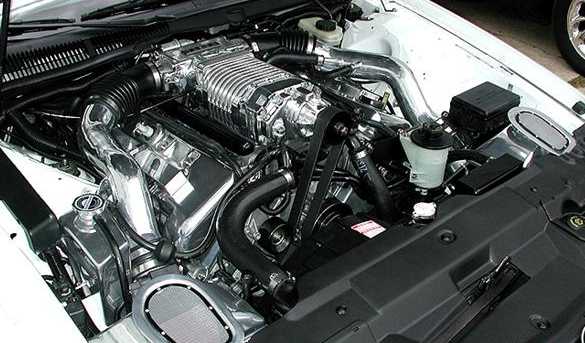 The two 24lbs injectors per cylinder reside in a custom fabricated 1 inch aluminum fuel rail.

Atop the 32 valve all aluminum V8 sits an Eaton M90 set to a mild 10lbs of boost with a custom made one off air to water intercooled intake manifold. The intercooling system consists of a dedicated radiator, electric water pump and reservoir.

The AC compressor and power steering pump were relocated for proper belt wrap as well as the alternator being mounted on the bottom left of the engine to allow for the supercharger clearance.

Underneath the car wasn't ignored either featuring a fully custom built set of 1 5/8 headers (this is the first ever Lincoln Mark VIII to be fitted with headers) a custom built 4R70W wide ratio transmission as well as a custom torque converter, hand made 2.5 inch stainless steel exhaust exits through a set of fabricated mufflers with twin chrome tips on each side poking through custom bumper inserts. There is also a 2 piece cast iron Salt Flat Halibrand driveshaft connected to an 8.8 independent carrier housing a set of 3.55 gears and a factory Ford Traction Lok posi unit.The engine is rated at 450hp and this car turns 12 second quarter mile times in drive all the while keeping every luxury options in tact and fully functional as well as achieving 25 mpg on the highway.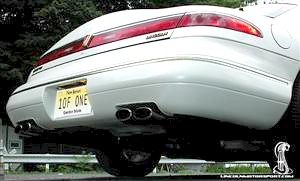 Please feel free to look around this amazing vehicle for a peek into Ford Protyping History. This is the rarest Lincoln Mark VIII ever produced with a 1 of 1 production number and the ONLY factory Supercharged Lincoln Mark VIII in History.

The Supermark is owned by Geno Angelino of Lincolnmotorsport