2007 Lincoln MKS Sedan (Mark S)
A new generation in Lincolns of Distinction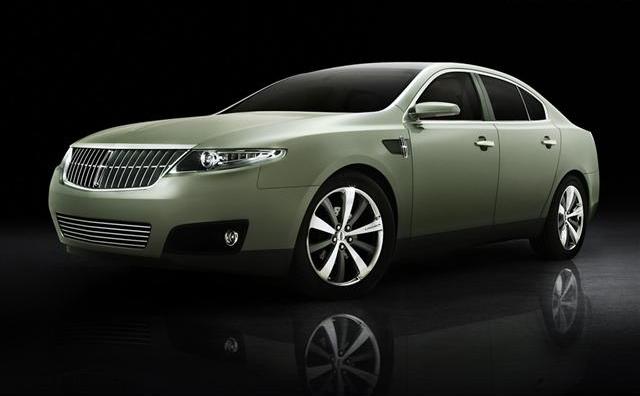 "Strongly hinting" at the design direction Lincoln will take with its future flagship sedan is the MKS concept.
With an exterior that includes Lincoln's trademark waterfall grille and 20-inch tires, the largest ever on a Lincoln sedan, the MKS combines a new all-aluminum 4.4-liter V-8 engine (315 horsepower) with a six-speed transmission.
"It's a concert of robust and confident acceleration, very good fuel efficiency and low emissions," said Horbury.
Inside, MKS features heated and cooled seats with 14-way power adjustments, the panoramic Vista Roof? and a variety of entertainment and convenience features including an advanced navigation system, Bluetooth? and DVD-audio surround sound.
"This type of innovative and intuitive technology will be the hallmark of Lincolns going forward," said Horbury.
Along with an array of safety features, the Lincoln MKS is also equipped with a steering column that tailors its rate of collapse to a driver's size and safety-belt use in the event of a serious collision.
"Lincoln has historically excelled at full-size luxury sedans, it's been our hallmark" said Darryl Hazel, vice president, Marketing. "With the Lincoln MKS we're reaffirming what we stand for and signaling our intent to introduce a new full-size performance luxury sedan in the very near future."
"Luxury customers have very high expectations for vehicle design, performance, comfort and service," said Stevens. "Innovation is something they expect
Specifications:
Year: 2006
Make: Lincoln
Model: MKS Teaser
Position: Front Engine
Configuration: V8
Valvetrain: DOHC, 4 Valves/Cyl
Displacement: 268.5 CI / 4400 CC
Power: 315 BHP / 234.9 KW @ 4500 RPM
Torque: 320 FT LBS / 434 NM @ 3000 RPM
HP/L: 71.59 BHP per Liter
Drive Wheels: AWD
Length: 203.8 IN / 5176 MM
Width: 75.5 IN / 1917 MM
Wheelbase: 114.4 IN / 2905 MM
Front Track: 65.2 IN / 1656 MM
Rear Track: 65.6 IN / 1666 MM
Front Wheels: 20.0 x 8.0 IN / 50.8 x 20.3 CM
Rear Wheels: 20.0 x 8.5 IN / 50.8 x 21.6 CM
Front Tires: 245/45/R20
Rear Tires: 245/45/R20
Transmission: 6-speed select shift


Soundbites from the 2006 NAIAS Detroit Auto Show
Peter Horbury, executive director, Design, North America talks about the direction of luxury brand Lincoln with its new MK S, (pronounced Mark S) concept car, that defines full-size Luxury for a new generation.
"First and formost I was aiming to make Lincoln distinctly American. I think it's important that we reflect national identity in these products. Lincoln always was an American car but at the same time it was always that counter balance to maybe the other American luxury brands at the time. You can tell that either the front, even if the fronts are different, even if the grills are different, they're distinctly Lincoln and in the American way a little more overt than some of the European brands."
(But how does an Englishman, design an American car….?)
"If you live in a society all your life you grow blind to what is obviously unique in that society you just get used to it, an outsider comes in with a fresh pair of eyes and says look, that is uniquely American….I don't find that in England or you don't find that in Germany, Japan or anywhere else. So sometimes it's a benefit to have a foreign pair of eyes coming into a culture…..once we decided that we're going to produce American cars for American customers here on American soil, what's American….ask me and I'll tell you."
(So we did…..)
"Clearly there is an outgoing characteristic of Americans that is something that they're very proud of…that says "Hi I'm an American….my names Dave…pleased to meet you….You' don't find that elsewhere in the world, you don't find that forwardness, that I think, some people might say it's too forward, but I find it refreshing. I find that sort of pride and confidence, especially that confidence brought out of optimism which created America. I think that something that if we can reflect that in our vehicles, we will capture an enormous slice of this market, of people who want to buy American and they want something truly American."
Getting back to the Lincoln MK S concept vehicle, Horbury says a number of styling cues from the past will bring the Lincoln brand into the future, with a look of purity and cleanliness.
"If you look at this Mark-S you can see that the side is perfectly clean. It's not cluttered with lots of lines which I think refers back to some of those cars in the 60's and even before that. The 1941 Continental was a beautifully clean car, at a time when there was a lot more access on other cars and then into the 60's where the '61 Continental had extremely clean sides, this cleanliness, this purity of form I think is one of those things we're picking up from the past."
(The MK S (pronounced Mark S) is the next building block in the transformation of the Lincoln showroom, representing a fitting complement to the all-new Zephyr and Aviator.)
More images and Free Lincoln Mark S Wallpaper
Click image to see larger wallpaper image (1024x768)