1976 Lincoln Continental Mark IV
Lincoln's personal luxury coupe, the 1976 Lincoln Continental Mark IV, rode a 120.4 inch wheelbase and it's classic styling changed little this year. New trims and options were available and the standard equipment list was altered. Introduced October 3, 1975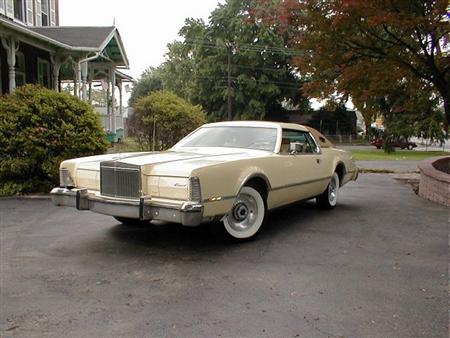 Lincoln decided to raise the stakes in 1976, with the addition of four "Designer Series models" Bill Blass, Cartier, Hubert de Givenchy, and Emillio Pucci. Each designer series gave a distinctive look to the Mark VI with specially upolstered seats and paint scheme, along with other elegant designer touches.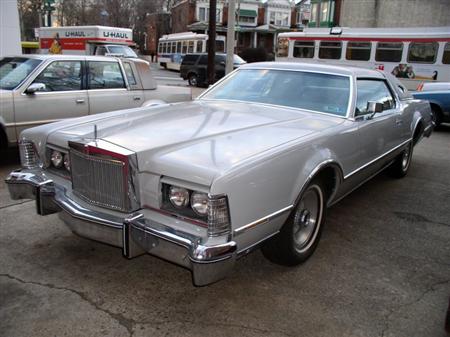 Appearence was similar to 1975, including the trademark concealed headlamps. Also maintained was the Lincoln Mark traditional classic look grille. The grille was rather narrow, made up of thin vertical bars, with a thick header bar that extended down along the grille sides. It's resemblance to Rolls Royce was no accident. On a side note, this design feature began when Lee Iococca pade a phone call one day and instructed his design team to "stick a Rolls Royce grille on a T-Bird", and thus the Lincoln Mark IV was born.
Above the grille was a bright Continental star stand up hood ornament. Combination wraparound parking and turn signal lamps were inset in leading edges of front facing fenders. The padded halo vinyl roof had color keyed surround moldings, with vinyl clad color keyed rear window molding.
Also distinctive to the Lincoln Mark IV, small oval opera windows to the rear of the quarter in the wide rear pillar, held Continental star ornaments. Identification consisted of Continental block letters and script, as well as Mark IV block letters and plaque. Doors displayed the buyer's initials.
Bright rocker panel moldings and extensions were included. The simulated spare tire had Continental lettering around the upper perimeter. Horizontal wrap around tail lamps stood just above the bumper.
Inside were standard Twin Comfort Lounge Seats in cloth and vinyl.
The Lincoln Mark IV had the same 460 cid (7.5-litre) V-8 as Continental, with standard 2.75:1 rear axle ratio. A Traction-Lok different was available , as was a new engine block heater.
A number of formerly standard items made optional, including an AM/FM stereo radio, power door locks, power deck lid release, tilt steering column, speed control, paint stripes, and appearance protection group.
There were four new optional luxury group interiors: gold/cream, red/rose, light jade/dark jade,and jade/white. Other new colors included dark jade (with the Versailles option), gold, and dove grey.Standard body colors were: black, dove grey, dark red, dark blue metallic, light blue, dark jade metallic, dark brown metallic, cream, tan, and white. Thirteen additional colors were optional.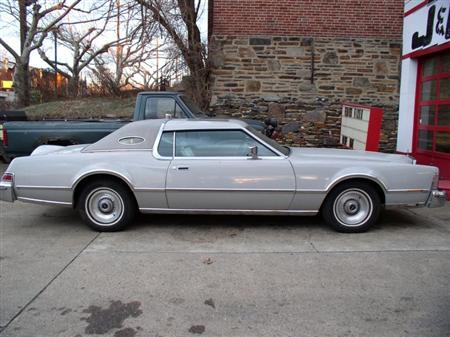 Turning to the Designer Series, the Cartier had dove gray body paint and a Valino grain landau vinyl roof, red and white paint/tape stripes, dove gray bodyside moldings, and Twin Comfort Lounge Seats in either Dove Gray Versailles cloth or gray leather seating surfaces. Opera windows carried the golden Cartier signature.
Bill Blass had a blue metallic body, cream Normande grain landau vinyl roof, cream and gold paint/tape stripes, and either cream or dark blue bodyside moldings. Twin Comfort Seats were either blue majestic cloth or blue leather, with cream accent straps and buttons.
Givenchy Marks displayed aqua blue (turquoise) Diamond Fire body paint, with white Normande grain landau vinyl roof, black and white paint/tape stripes and white or aqua blue bodyside moldings.
Twin Comfort Seats wore aqua blue velour cloth or aqua blue leather. Dark red Moondust (burgundy) body paint went on the Pucci, which also had a silver Normande grain landau vinyl roof, silver and lipstick red custom paint/tape stripes, and red or silver bodyside moldings. Twin comfort seats carried dark red majestic cloth.
All four Designer editions had forged aluminum wheels. All had the designer's signature on the opera window, and also on a 22K gold plate mounted on the instrument panel which also carried the owner's name indicating the vehical was "Made For" the owner specifically.
Identification Data:
Lincoln placed the Vehicle Identification Number (VIN) on a metal tab fastened to the instrument panel which is visible through the windshield. The first digit is a model year code (`6' 1976). The second letter indicates assembly plant:`Y' Wixom, Michigan.
Digits three and four are the body serial code, which corresponds to the model numbers: `81' Continental 2-door; `82' Continental 4-door; `89' Mark IV 2-door.
The fifth symbol is an engine code: `A' V8-460 4Bbl. Finally, digits six-eleven make up the consecutive unit number, starting with 800001.
A Vehicle Certification Label on the left front door face panel or door pillar shows the month, manufacturer and year of manufacture, GVW, GAWR, certification statement, VIN, body code, color code, trim code, axle code, transmission code, and domestic (or foreign) special order code.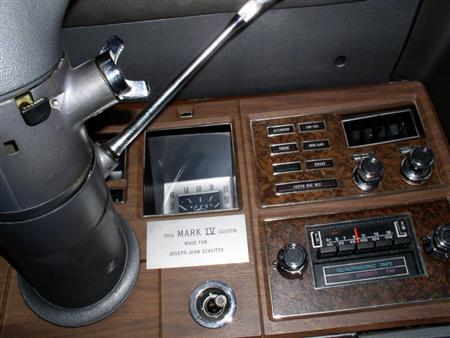 Factory price: $11,060.00
Standard weight: 5,051 lbs
Total Units Produced: 56,110
Engine: Base V8. Five main bearings. Hydraulic valve lifters. 90-degree, overhead valve V-8. Cast iron block and head.
Displacement: 460 cid (7.5 liters).
Bore and stroke: 4.36 x 3.85 inch.
Compression ratio: 8.0:1
Torque: 352 lbs.-ft at 1600 rpm.
Brake horsepower: 202 at 3800 rpm.
Carburetor: 4Bbl. Motorcraft 4350 (9510).

Chassis data:
Wheelbase: 120.4 inches
Overall Length: 228.1 inches
Height: 53.5 inches
Width: 79.8 inches
Front tread: 63.1 inches
Rear tread: 62.6 inches
Tires: KR78 x 15 SBR WSW

Technical:
Transmission: Select Shift three-speed manual transmission (column shift) standard.
Gear ratios:
(1st) 2.46:1
(2nd) 1.46:1
(3rd) 1.00:1
(reverse) 2.18:1
Standard final drive ratio: 2.75:1

Suspension:
Front: Power assisted, recirculating ball. Independent front coil springs with lower trailing links and anti-sway bar.
Rear: Rigid rear axle with lower trailing radius arms, upper oblique torque arms, coil springs and transverse linkage (anti-sway) bar.

Brakes:
Front: Disc brakes
Rear: Drum brakes
Sure track brakes

Ignition: Electronic
Body construction: Separate body on perimeter-type (ladder) frame
Fuel tank: 26.5 US gallons

Drivetrain options:
Higher axle ratio with dual exhausts
Traction-Lok differential
Trailer towing package
Engine block heater


Convenience/Appearance options:
Versailles Option
Cartier, Bill Blass,Pucci Leather or Versailles cloth
Givenchy leather or velour
Luxury paint options: (gold-cream, red rose,dark/light jade, jade-white, saddle-white, lipstick-white, or blue diamond
Appearence protection group
Headlamp convenience group
Electric rear defroster
Quick defroster
Speed control
Power lock convenience group
Tilt steering wheel
Power vent windows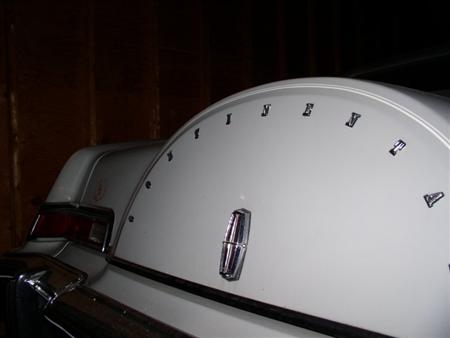 Intermittent wipers
Fuel economy light
Anti-theft alarm
Security lock group
Sunroof
Four note horn
Right remote mirror
Lighted visor vanity mirror
Search tune AM/FM stereo radio
Quadraphonic eight track player
Reclining passenger seat
Space saver spare
Sources: Standard Catalog Of® Ford, Ford Motor Company, Andre McGuille, John Dancy Sr, Paul Mayberry, Oldschool7, and a great thank you to the LSCClub for contributing this article.